The exhibition "Mallorca at home 2020", the choral project launched by the communication agency Mallorca Global and Mallorca Caprice to obtain a visual account of what happened in Mallorcan homes during lockdown, lands in Inca with new images of the region that show how that period derived from the COVID-19 pandemic was lived. Thanks to the collaboration between the agency and the Inca city council, citizens will be able to approach the avinguda dels Reis Catòlics to visit the twenty panels with photos of the lockdown in the municipality and the rest of the island from October 22 to 18 of November.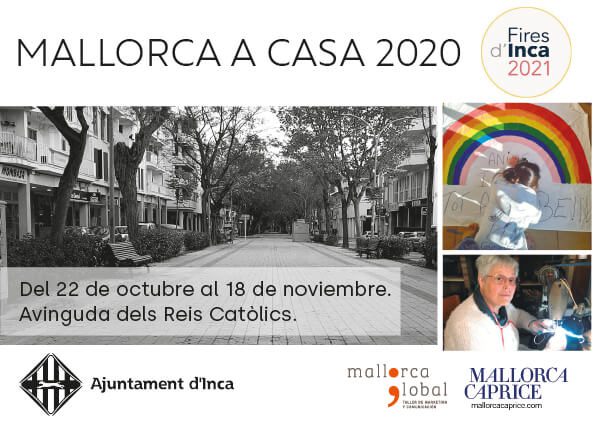 Mallorca Global, in the fires of Inca
More than a hundred snapshots will remain on display in Inca during the celebration of its autumn fires, which start this Friday, October 23 with the Fira de la Terra and will last until November 18, when the traditional Dijous Bo will take place. In the exhibition, which in the months of April and May occupied the central avenue of Born in Palma on the occasion of the first anniversary of the lockdown, a selection of the more than 400 photographs sent by dozens of Mallorcan residents is collected to share their experiences during that period. A collective testimony about a historical event that lands in Inca with new material focused on the municipality and its people.
The Mallorca Global communication agency will accompany those in charge of the Inca town hall at the opening of the exhibition on Friday, October 22 at 6:00 p.m., date from which the residents of the municipality, as well as those who attend any of the fires, will be able to enjoy this visual story.
A puzzle of feelings
When the pandemic broke out, the marketing and communication agency Mallorca Global devised the #mallorcaconfinada2020 contest. With it, the agency intended to leave a visual record of a historical moment. The websites of Mallorca Global and Mallorca Caprice asked citizens to send images of their lockdown and the response was surprisingly high. The contest received around 400 photographs, forming a great puzzle of personal feelings that later made possible the exhibition that now comes to Inca after passing through Born in Palma: "Mallorca a casa 2020".