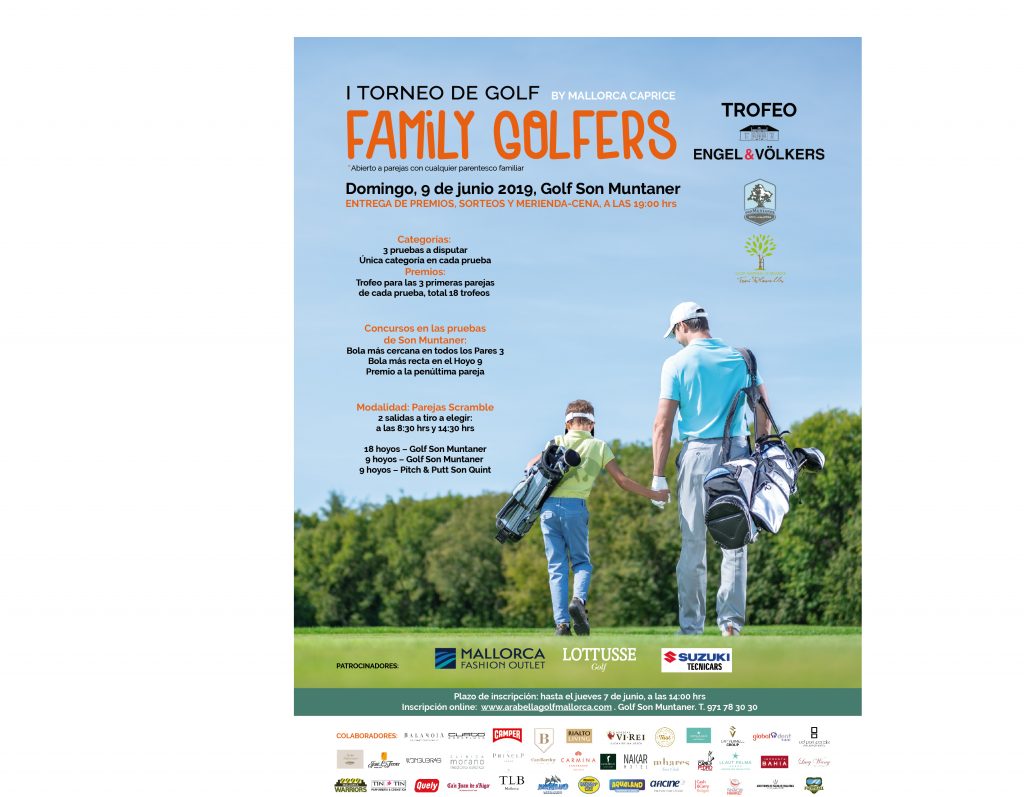 Domingo, 9 de junio 2019, Golf Son Muntaner
Entrega de premios, sorteos y merienda-cena, a las 19:00 hrs
Categorías:
3 pruebas a disputar
Única categoría en cada prueba
Premios:
Trofeo para las 3 primeras parejas
de cada prueba, total 18 trofeos
Concursos en las pruebas
de Son Muntaner:
Bola más cercana en todos los Pares 3
Bola más recta en el Hoyo 9
Premio a la penúltima pareja
Modalidad: Parejas Scramble
2 salidas a tiro a elegir:
a las 8:30 hrs y 14:30 hrs
18 hoyos – Golf Son Muntaner
9 hoyos – Golf Son Muntaner
9 hoyos – Pitch & Putt Son Quint
Plazo de inscripción:
hasta el jueves 7 de junio, a las 14:00 hrs
Inscripción online: www.arabellagolfmallorca.com . Golf Son Muntaner. T. 971 78 30 30
El Golf Son Muntaner acoge el I Torneo Family Golfers
La competición reunirá a parejas de deportistas con cualquier parentesco familiar
El Golf Son Muntaner acogerá el I Torneo Family Golfers – Trofeo Engel & Völkers, que se disputará el domingo día 9 de junio a partir de las 8:30 horas. En esta competición, que se jugará en modalidad Scramble, competirán solo parejas formadas por jugadores relacionados mediante parentesco familiar. La fórmula ha causado gran interés en el mundo golfista insular.
El torneo, organizado por Mallorca Caprice, combina la competición propiamente dicha con una gran parte lúdica, ya que habrá interesantes sorpresas durante su celebración.
Se disputarán tres pruebas: habrá dos salidas a tiro (shotgun) a elegir entre el turno de mañana o tarde de 18 y 9 hoyos en el campo de Son Muntaner, y a las 16:00 horas otra salida en el Golf Son Quint Pitch & Putt. El torneo se podrá seguir en vivo y en directo a través de las redes sociales con el hashtag #familygolfers.
Un gran aliciente lo conforman la entrega de 18 trofeos que se asignarán a las parejas ganadoras y los más de 60 regalos que se repartirán entre todos los participantes. Asimismo, se entregarán premios a los ganadores de todos los Pares 3 "Nearest to pin", el hoyo 9 "Ball nearest the line" y el hoyo 7 del Golf Son Quint Pitch & Putt "Nearest to pin". Además de los premios, durante la jornada también habrá sorteos, actividades y una variada gastronomía.
Las inscripciones se pueden hacer a través de este enlace y estarán abiertas hasta el jueves día 7 de junio a las 14:00 horas.