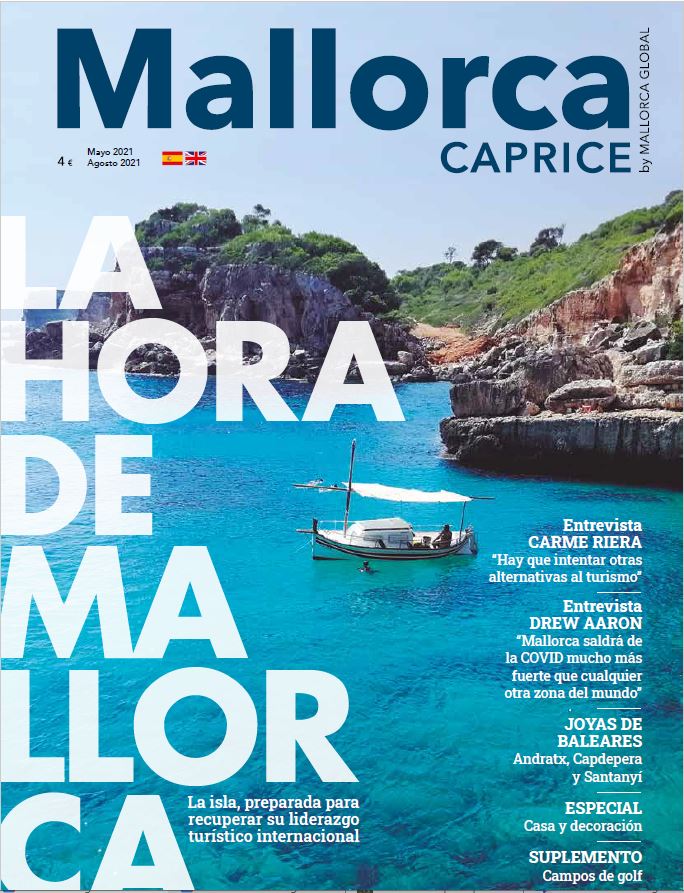 Palma, May 26, 2021. This year's first edition of Mallorca Caprice by Mallorca Global is now available on newsstands, consolidating itself as the quarterly magazine of general information of the island.
In this edition, Mallorca Caprice by Mallorca Global focuses on how Mallorca is facing the recovery of its international tourism leadership after a long period of lethargy. Expert voices such as the director of Tourism, Culture and Sport of the CEOE, Inmaculada Benito, or the sociologist of the UIB Lluís Ballester analyze the economic and social situation of the island and the challenges it faces. Academic Carme Riera also provides its own vision on the present and future of Mallorca.
The magazine also includes interesting testimonies and statements by the UN Special Envoy for the Ocean, Peter Thomson, and the CEO of Lionsgate and Gallery Red, Drew Aaron, who describes the situation of the real estate sector on the island. Other sections such as People, Gastronomy, Culture, Travel, Style or Sport discover new realities, plans and trends to enjoy in the coming months.
The 2021 edition of Mallorca Caprice by Mallorca Global also includes two supplements (Golf and House & Decor) in which you will find the latest trends in household and the reasons why Mallorca can be considered the capital of Golf. Similarly, the special section 'Balearic Jewels' immerses the reader in the unique natural wonders of the towns of Andratx, Santanyí and Capdepera.